Wow! What a day. Executing 30 different activities wasn't easy but it was definitely worth it. Here's a short sum up:
Most quoted line of the day: "Drink Water" (we made sure to keep the kids consistently hydrated with ice water), followed by "Yes, you need your water bottle."
Camper's favorite activities included: Power Walking, Pickle Making, Volleyball and Baking!
How we make S'mores at Camp Kesher: With cookies from the Baking Club, of course!
Number of pounds of pasta we eat at an average meal: 15
Popular activity not on the schedule: Playground time.
Average time waiting at the Canteen: 3 minutes
What we are looking forward to next: A surprise coming tomorrow!
The campers are smiling, the sun is shining – what could be better? I can't wait for another day tomorrow.
Don't forget to check out our pictures on the Camp Kesher NCSY instagram and FB pages.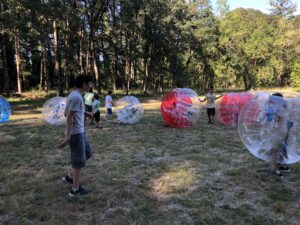 .
Meira